Loft Sweater
// Hazel & Olive Skater Skirt c/o (
save
) //
J.Crew Belt
// Gap Flats (
save
,
splurge
) //
Linea Pelle Bag
c/o //
Michael Kors Watch
(
save
) // Stella & Dot Necklace //
Poshlocket Spike Bracelet
c/o (save 15% with EXTRA15) //
Poshlocket Elephant Bracelet
c/o //
Be Free Revolution Freedom Cuff
c/o /
Cathryn Ann Designs Tassle Bracelet
c/o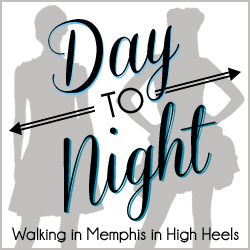 Thanks for stopping by for the Day to Night Series! Every two weeks I will pick a different item and a different blogger. One person will style it more casually for day, and the other will dress it up for night. If you're interested in participating, you can email me
here
. This week the item is a black skater skirt.
When you think of a skirt, you tend to think of it as a dressier piece, but they can be so versatile.
I've mentioned my love for skater skirts many, many times lately. It is one of my favorite styles and is so easy to wear. It's also incredibly flattering on so many different body types.
Elvy from
Pigtails & Pearls
wore her skater skirt dressier for night with a black blouse, a long gold tassel necklace and her amazing
pink Torrid pumps
. Elvy's outfit is one of my favorites I've seen this week. I would absolutely wear it in a heartbeat, and she looks fabulous!! I wore my skater skirt more casually for day with my favorite striped sweater, my new Be Free Revolution bracelet, Stella & Dot necklace (shop my trunk show
here
to be entered in a drawing for a $30 item of your choice), a crossbody bag and flats. I actually wore this exact outfit sans skirt on Saturday night to watch the Robert Plant concert on the grass at the Botanic Gardens. There was too much walking and dirt and dust for a skirt, so my new cutoff denim shorts came in handy! Another great way to dress a skirt down would be to add sandals, a tee, a ball cap, and you're done.
Now I want to take a moment to get back to my bracelet. It is from
Be Free Revolution
, a
non-profit organization based out of Collierville, TN (right down the street from where I work!) I was so thrilled I have been contacted by such an amazing organization that is located just down the street from me. Be Free Revolution works to empower men & women in Kenya & Uganda by providing them with a trade. They work to create different types of beautiful, unique jewelry. Every piece of jewelry that Be Free Revolution sells is handmade. They sent me a few different items, and I am wearing the skinny freedom cuff today. I can honestly say I absolutely love their pieces. The quality of each item is unbelievable. It's hard to believe but all of the necklaces are actually made out of old magazines!! They feel so durable though. I love that all their pieces are unique, but even more than that, I love wearing something that has such positive meaning behind it. Please make sure to stop by Be Free Revolution and read all about their mission and check out their jewelry.
Linking up with
Lindsey
,
Shanna
and
Alison
.